Brands often handle e-commerce and retail store business differently, as each of them comes with a unique set of challenges and opportunities. These brands adopt diverse pricing strategies, inventory management techniques, and marketing tactics to cater to the unique requirements of each channel.
Due to this, the customers end up having different kinds of experiences on each channel. 
The transition from online to retail shopping and vice versa is not smooth. Eventually, they lose trust and hope in the brand's products/services. Here is how the gap between online and in-store platforms widens.
As a retailer, you must embrace the concept of omnichannel commerce. This innovative approach is tailored for those who still rely on traditional methods for engaging with customers.
As per the data collected by Think With Google, omnichannel strategies help generate around 80% of in-store visits. Also, 74% of customers research online before visiting a physical store.
In the digital age, retailers must transition to omnichannel marketing to cater to the ever-changing needs of their target audience. In the following sections, I will guide you on leveraging omnichannel commerce to bridge retail, online, and social commerce.
Also Read : Ways to Implement A Seamless Omnichannel Experience Strategy
Understanding Omnichannel Commerce: A Holistic Shopping Experience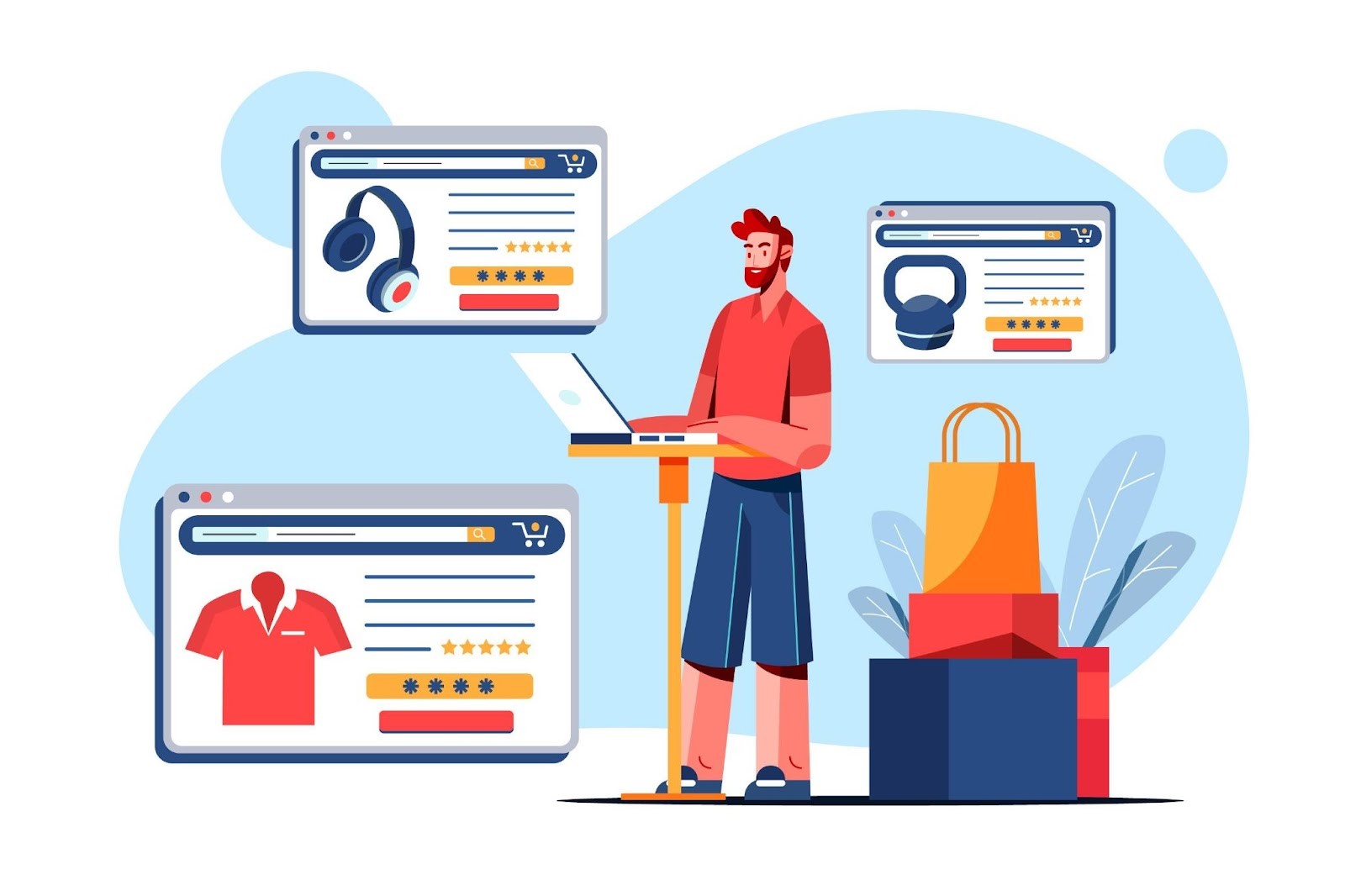 Traditional CRM (Customer Relationship Management) systems are not capable of tracking customers' data from brick-and-mortar stores in real time. If you still rely on these systems, it will be difficult to consolidate data from different customer touchpoints.
To merge offline and online data, you may offer loyalty programs to your regular customers. The data churned from the loyalty programs helps you maintain detailed customer records obtained from each touchpoint. You can use sophisticated tools to eliminate duplicate records and details.
However, this is just the tip of the iceberg. The real deal is integrating all channels to create unified customer experiences. Every aspect of marketing, even loyalty cards and programs, can be digitized to offer seamless shopping experiences.
Brands have started understanding the importance of bridging online and in-store gaps through omnichannel marketing. According to Invesp, brands with weaker customer engagement strategies retain only 33% of their customers. On the other hand, brands that implement omnichannel commerce retain 89% of their customers. 
The omnichannel approach for retail marketing helps you leverage the latest technologies and systems to track user data. Social listening lets you find what customers expect from retailers like you.
Upon studying these insights, you can customize their content on every touchpoint. Through tailored content and responsive action, you can offer enriching customer experiences.
Also Read : What is the role of customization in omnichannel strategy?
The Rise of Consumer Expectations: A Seamless Integration of Touchpoints
Consumers expect a seamless journey while exploring different channels. They want to switch seamlessly between channels and explore which fits their requirements best. 
For instance, if you ask them to download an app before purchasing social media, they may lose interest in your products.
Here is how to use omnichannel for balancing online and offline gaps:
1. Consistent Branding and Messaging 
Consistency is the key when it comes to your branding strategies. The brand message has to be clear and consistent across the channels.
The distinct brand voice on each channel will make the customers feel like they are interacting with a different brand each time. It dilutes your impact on your customers and makes them doubt your brand values and vision. 
2.
Unified Inventory Management 
With omnichannel commerce, you don't have to manage separate inventory for offline and online stores. The real-time data obtained from physical and e-commerce stores help you to fill the demand gap on time.
For instance, some customers prefer visiting retail stores for festival shopping. On other days, they might find using your e-commerce site or mobile app convenient for shopping. These insights can help you optimize your inventory according to the situation and demands. 
If a customer does not find a suitable product in your retail stores, you can ask them to order it through your online store. The option to do so must be provided while the customer is at the physical store.
You can deliver the purchased item directly to their doorstep as a token of gratitude. It would not only provide more convenience to them but also help you to optimize the resources better. 
3. Personalized Customer Profiles 
Creating customer profiles is essential to understand their buying behavior, interests, age, and other details. By merging data from different channels, you can avoid data duplication. This will allow you to maintain a single profile for each customer. 
With unique customer profiles, you can create unique customer segments. These segments will empower you to execute targeted marketing strategies with ease. As per McKinsey and Company, 71% of customers expect you to offer a personalized experience for shopping. 
Suppose that you are a brand that sells fashion clothes and accessories. Your customers will like it if you remember their past choices and favorites. You can suggest the colors, fashion trends, and styles per their buying history. Personalization in the retail shopping experience can further close the gap between online and retail stores.  
Why is Data Integration Crucial for Successful Omnichannel Experiences?
Leveraging Technology for Omnichannel Success
Executing the omnichannel strategy for online and offline retailers is not possible without technologies like AI (Artificial Intelligence) and ML (Machine Learning). As a brand, you must leverage technologies like these to improve customer experiences. 
I would suggest these ways to implement the omnichannel approach through advanced technologies:
1. Integrated E-commerce Platforms
An integrated e-commerce platform is an e-commerce solution that integrates seamlessly with other online services and applications. A fully integrated e-commerce eliminates the need for third-party connectors to communicate with other applications. 
For instance, if a customer wants to track their order, your e-commerce site must allow them to access the tracker on the website itself. If the customers need to open the browser and paste the tracker link, it will deteriorate their experience. 
Integrated e-commerce platforms are used to offer a seamless shopping experience to users. The popular integrations include payment gateways, customer support software, CRM, and ERP (Enterprise Resource Planning) systems. 
You can integrate your e-commerce site with an ERP system. It will enable you to monitor the stock items and levels in real-time. Likewise, CRM integration will help you keep track of customer relationships via emails, SMS, social media, and other mediums. 
2.
Mobile Apps and In-Store Navigation
In-store navigation apps direct your customers to the products that they want to purchase. You can develop a mobile app that allows your customers to help themselves when they visit your stores. The app can contain a digital map that helps them navigate through different sections of your store to find their preferred products easily. 
You can use customer insights to convey personalized suggestions through the in-store apps. The recommendations should be based on their previous online purchases and shopping experiences. You can offer your customers a holistic and 360-degree shopping experience through a careful blend of offline and online channels. 
3. AI-Powered Personalization
With AI, you can take the impact of personalization on your customers to the next level! AI and Machine Learning allow you to predict customer needs and choices accurately. It will enable you to introduce hyper-personalization and shape their experiences as you want!
AI-powered tools use customer data and insights before sending recommendations. For example, if a customer purchases an ice cream blender from your store, the AI will automatically suggest ice cream mixes and flavoring agents. This will not only impress your customers but will also boost your online sales! 
Also, read How Brands Leverage AR and VR Marketing?
Innovative In-Store Experiences: The Role of Physical Retail
Digital shopping and social commerce rule the e-commerce trends these days. A majority of customers, especially millennials, are addicted to online shopping. Yet, the role of brick-and-mortar stores cannot be undermined. As a brand owner, you must focus on innovating the in-store experiences. 
In the future, the physical stores may replicate some of the features of the online stores. By offering exceptional in-store experiences, you can gain a loyal following of your customers. Here are a few ways of using an omnichannel approach for retail marketing:
1. Click-and-Collect Services
Many brands have adopted the hybrid e-commerce system by offering click-and-collect services. With click-and-collect services, customers can choose an item online and visit your retail store to collect it. It bridges the gap between online and offline experiences. Click-and-collect services also offer convenience to customers.
Suppose one of your customers has liked a product online but is unhappy with the delayed delivery date. Now, you can suggest the customer to pick up the product from the nearest store. Customers who do not have enough time for retail shopping will find it a convenient and time-saving alternative. 
2. Augmented Reality Try-Ons
With augmented reality (AR) try-ons, you can offer a realistic experience to the customer without asking them to visit your brick-and-mortar stores. For example, IKEA uses AR to give its customers a realistic feel of how a piece of furniture will look in their house. 
By using virtual reality and AR, you can help customers make more informed choices. It will also reduce their chances of returning the ordered items if they don't match their expectations. 
3. Interactive Displays and Self-Checkout
You can include interactive displays in your physical stores to showcase your product range. At times, you don't have enough space to put all the products of a particular type on the display. Fewer options can upset your customers.
With interactive displays, you give them the choice of scrolling through the entire product range. It not only saves space but also elevates their overall shopping experience. 
Self-checkout points allow the customers to help themselves pay for the purchased product and leave the store. It saves their time and prevents them from standing in long queues at the bill counter. 
Data-Driven Insights: Enhancing Customer Engagement
You must engage your customers to make your omnichannel commerce strategy a success. Here are a few ways of using data-driven insights to drive customer engagement:
1. Analyzing Shopping Behavior 
Your customers' buying behavior and preferences give you insights into their perspectives and expectations. You can use this data to engage your customers.
Find details related to their age, occupation, and hobbies to understand their mindset. Once you have understood their mindset and emotions, capture their interests and engage them in meaningful and impactful conversations. 
2. Tailoring Marketing Campaigns 
Data should be at the core of every marketing campaign. With enough customer insights, you can shape the campaigns per your customer's needs and preferences. Social commerce and omnichannel marketing provide you with enough customer data. You get accurate details about their age, occupation, buying preferences, interests, and hobbies. 
You can create and target various customer segments using this raw data through unique promotional strategies. By employing such strategies, you can maximize customer engagement and best use the available resources. 
Using Social Listening To Drive Effective Social Media Advertising Campaigns.
3. Predicting Customer Preferences 
Predicting customer preferences has become much easier with AI, ML, social listening, and other tools. With predictive analytics tools, you know what to expect from customers. You can use this information to curate better experiences for them. 
You can track each customer's journey through the mindful implementation of omnichannel marketing. You can anticipate their next moves by analyzing their behavior at certain touchpoints. 
Suppose that a customer leaves your website after encountering some technical issues. You can map their journey and use the available details to predict their preferences. After that, you can email all the personalized recommendations they might be looking for! 
Challenges and Considerations in Omnichannel Implementation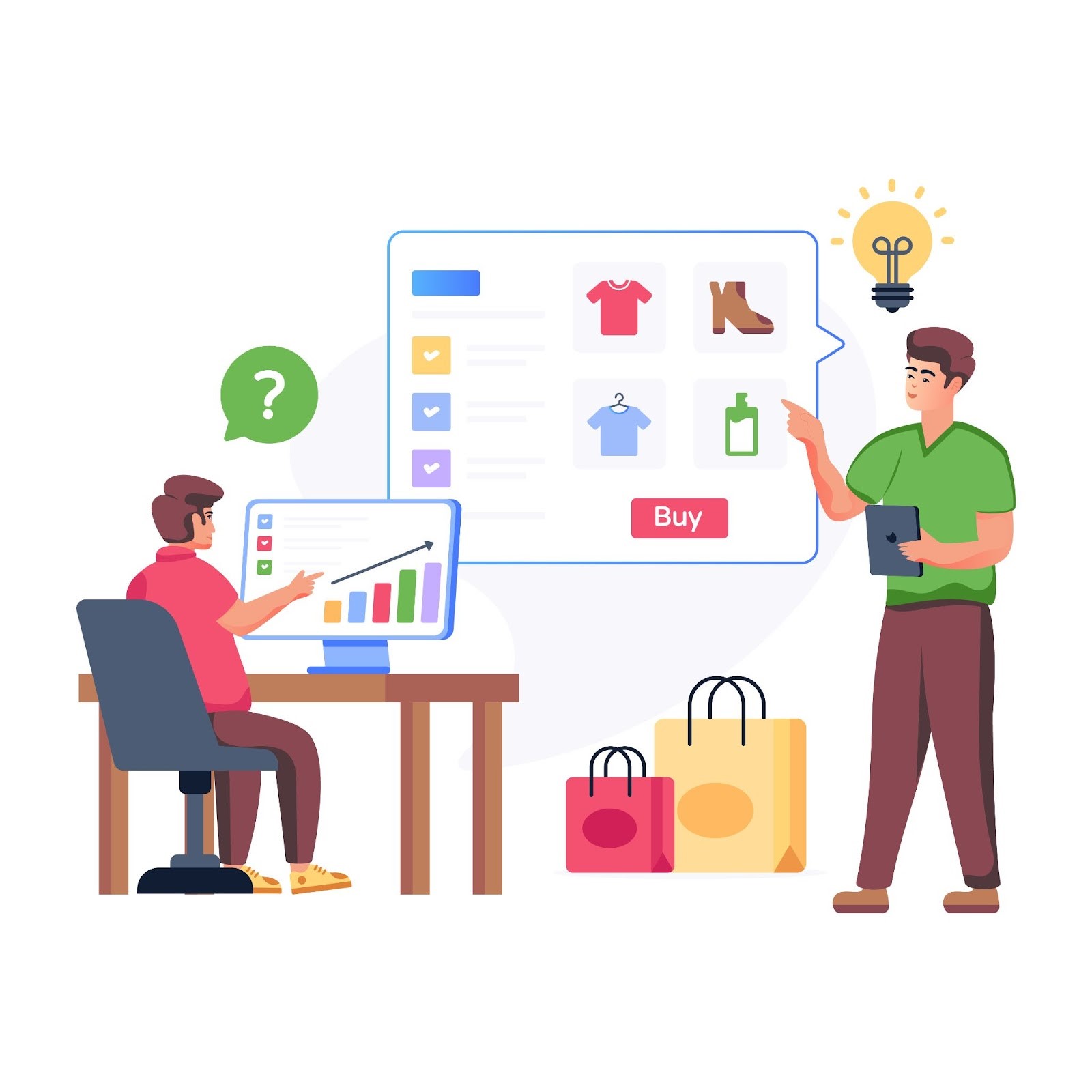 Adopting an omnichannel approach for retail marketing helps you reach the target customers at the right time. Yet, successfully implementing it to offer users a flawless experience is quite challenging.
I would suggest you be mindful of these things while using omnichannel for balancing online and offline gaps:
1. Data Security and Privacy
Cybersecurity is the top priority of e-commerce brands. The retail sector suffers the most as it holds credit card details and other confidential customer information. 
The omnichannel commerce requires you to collect data from all the customer touchpoints. While collecting data is necessary, you must employ data security measures and protocols to prevent cyber attacks and data piracy. 
Using data encryption and authentication controls can strengthen the security system. Restricting visitors from accessing the data is also necessary to maintain the safety of your omnichannel platform. 
2. Operational Complexity
Operational conflicts will arise when you use multiple channels to reach customers. Implementing omnichannel for retailers and e-commerce generates a huge volume of daily data. As a retail brand, employ the proper methods to collect the data and maintain its integrity. 
Use data analytical tools to analyze online conversations in real-time. Synchronization of channels is also essential to avoid data duplication. You can centralize the data obtained from online and offline channels. Further, you must integrate data-matching algorithms to avoid creating multiple profiles for the same customer. 
Integrate a customer-centric supply chain by synchronizing sales with communication channels. Don't force the customers to raise requests to track orders, register feedback, and access customer support on different channels. Every channel must allow access all the customer services.
Maintain a lean logistics system by obtaining real-time details on inventory levels to avoid any delay in product delivery. The stocks available in retail stores should be properly monitored along with the available supplies in the warehouse.
4. Consistency Across Channels 
Siloed teams can create a disparity in the customer experience. Encouraging data sharing between retail and online stores will offer greater visibility into customer journeys. The information provided to customers through different channels should be consistent. 
I would recommend using a unified marketing platform that offers a suite of marketing tools. It promotes data exchange among channels and helps you provide seamless customer experiences across the channels. 
Did you read : How To Create A Unified Brand Voice Across Omnichannel Touchpoints?
Driving Business Growth through Omnichannel Strategies
By leveraging retail marketing insights for online campaigns, brands can make better use of the omnichannel platform. You can expect these benefits after adopting an omnichannel strategy for bridging the gap between online and in-store retailing:
1. Increased Customer Loyalty and Retention
Omnichannel commerce impresses audiences through personalized experiences. It develops an emotional connection between you and your target audience.
You can offer each buyer a smooth and holistic experience by mapping customer journeys and customizing channels. This increases engagement and improves brand perception, resulting in repeat orders and increased customer loyalty. 
The omnichannel approach makes it easy for your customers to engage with different touchpoints to access your services. The improved customer satisfaction prevents the customers from straying from your business. 
2. Enhanced Cross-Selling and Upselling
Omnichannel commerce empowers all the teams to take equal responsibility for the customers. 
For instance, you can empower the customer support team to recommend a better product to a dissatisfied customer. Simultaneously, you must empower them to initiate the sales process from the same communication thread or call.
Cross-selling opportunities can also be created at checkouts, which are being offered at various touchpoints. 
3. Expanded Market Reach
Synchronize your retail business with your online and social commerce platforms. It will expand your market reach and help you create detailed customer personas based on the buying experience and journey. 
Omnichannel marketing highlights the channels that your customers prefer the most. You can expand your market reach by understanding your target audience, their preferences, pain points, and market trends. 
Ethical Dimensions of Omnichannel Commerce
Here are some ethical considerations to make while implementing omnichannel commerce strategies:
1. Transparency in Data Collection 
The customer expects you to be upfront while collecting the data. You should disclose the purposes for which you want to use customer data. Also, please respect their privacy and restrict data usage beyond a certain limit. 
For example, you cannot email someone multiple times a day because they are your loyal customers. 
2. Respecting Customer Choices 
Empowering customers is also equally important. Respect their choices if they do not wish to interact via certain channels. 
For instance, some customers might refrain from taking direct calls from your sales or customer support team. Understanding this will only take your connection with them further. 
The Future of Omnichannel Commerce: Evolving Trends and Possibilities
Omnichannel commerce is not just an alternative to traditional marketing but a multi-faceted tool to drive customer engagement and sales. Leveraging the latest tools and technologies like AI and ML is essential to keep pace in the evolving digital landscape. I would suggest you watch out for these evolving trends and possibilities:
The use of AI in fine-tuning customer experiences and predicting buying preferences will continue to expand. 

More retailers will offer in-store experiences through mobile apps using VR (Virtual Reality) and AR (Augmented Reality). 

Brands will further penetrate the online market by integrating social commerce with every customer touchpoint. 

E-commerce businesses will look to strengthen existing customer relationships through hyper-personalization and innovative content marketing ideas. 
Conclusion
As a retailer who wants to leverage the benefits of e-commerce, you must focus on delivering consistent customer experiences. Customer experience management platforms like Konnect Insights can make your life easier by allowing you to manage all the customer interactions from one place. With it, you get social CRM, social publishing, data analytical tools, and the option to integrate 3000+ apps to manage customer data. So, offering a unified customer experience becomes a lot easier. 
Check what this platform offers today and take a giant leap towards becoming one of the best retailers in the digital age!