In today's digital age, an individual's value is often assessed through their online influence and presence. The posts you share with your friends and peers have a profound impact on people's perceptions of you.
The same rule applies to your business too. Customers decide whether to buy your products/services by searching for your business on the internet. If the reviews and feedback of previous customers are satisfactory, they are convinced to proceed further and buy them. So, neglecting the impact of ORM (Online Reputation Management) on your business can be a grave mistake. 
In this article, we will walk you through the current and upcoming trends in online reputation management. By going through the upcoming ORM trends, you can shape your existing branding and customer retention strategies. 
The Current Landscape of Online Reputation Management
Social media has transformed the way we approach business. Local businesses no longer rely on the daily footfalls in their brick-and-mortar stores. They are aware of the reach and impact of social media.
So, most of them have social media accounts on platforms that suit their business type. They seek online orders and care to reply to customer reviews and suggestions. 
Likewise, bigger brands are fully aware of the impact of negative reviews on their business. They track negative reviews and try to resolve them on priority. They also hire reputation management experts to proactively look for events and conversations that can affect their online image.
As a brand owner, you must be informed about the latest trends in online reputation management. To keep pace with this evolving landscape, you must adopt the latest technologies and tools for marketing.
In the below sections, we will discuss the future of online reputation management in detail.
The Role of Artificial Intelligence in ORM
AI (Artificial Intelligence) has already penetrated deep into the communication systems that brands use to interact with their customers. NLP (Natural Language Processing) and deep learning algorithms are being used to engage with customers. The integration of bots and virtual assistants in customer services is no longer a hidden secret.
AI-powered data analytical tools are developed on a vast scale. You can leverage these tools to predict the next moves and preferences of customers. All these technologies are bound to grow in the future. The below pointers will explain some viewpoints in this context:
1. AI-driven Sentiment Analysis
Analyzing customer sentiments is essential to understand what they think about you. The insights obtained from their conversations can shape your marketing strategies. 
AI-driven sentiment analysis tools can track customer sentiments in real time. Powered with ML (Machine Learning) and NLP, these tools understand customer emotions and categorize them as positive, neutral, or negative. 
The job of NLP is to convert human language into codes that only machines can intercept. Syntactic methods are employed to analyze the structure of conversations whereas semantic methods intercept their meanings. 
Millions of conversations happen on social media every minute. Going through each communication thread and understanding their meaning is impossible for humans. With AI, you can automate the process of data collection and interpretation.
With AI-driven sentiment analysis tools, you can conduct market research or streamline customer service. These tools also monitor customer conversations and brand mentions proactively to prevent an online crisis. 
2. Predictive Analytics for Reputation Monitoring
Predictive analysis is a method of predicting a future conflict or crisis by analyzing historical customer data and patterns. As a brand owner, you must invest in machine learning algorithms and data science technologies to build robust predictive models.
These models will let you predict a significant shift in customer sentiments due to certain issues. By taking proactive measures, you can diffuse these issues or minimize their impact on your brand's reputation. 
3. Automated Content Creation and Optimization
AI tools are being used to create automated content as per the response of the customers. These tools are highly sophisticated and use AI algorithms to detect wrong or misleading information about your brand or products/services.
By detecting this information early on, you can prevent it from getting viral. You can either modify the content or remove it from your systems. If someone is purposely trying to malign your reputation, you can take the right steps to control its impact.
Also Read : 5 Supreme Online Reputation Management (ORM) Strategies For Effective Brand Management
The Evolving Social Media Landscape and ORM
The world of social media is rapidly expanding and opening new horizons for businesses. Established social media networks like Facebook, Instagram, X (formerly Twitter), and YouTube have already changed the way users consume content. While these networks might continue to dominate social media, new players and apps can also grab the attention of customers.
The future trends for reputation management will depend on how customers react to new digital platforms. So, brands that evolve and find ways of tracking user content on the rising platforms can manage their online reputation. Here are two important things to consider that will affect your ORM future.
1. Influencer Collaboration and Reputation Amplification
Different types of marketing techniques have emerged in the recent past. Brands seek these techniques to enhance their brand's perception and impact on customers. One of these techniques is influencer marketing. 
Influencer marketing means collaborating with social media influencers to create useful and impactful content for your users. The process starts with picking the right influencers for your business.
After selecting them, you must shortlist the ones that fit your budget and requirements. Contacting them and creating relevant content with their expertise is also equally important. Brands that have realized the potential of influencer marketing are doing great in the market. 
For instance, Nike has signed a lifetime contract worth $1 billion with famous footballer Cristiano Ronaldo. His fame, reputation, and goodwill will help the brand to spread its business into newer regions and countries. This is how brands try to use influencers to increase their social media presence and reach.
As a brand owner, you don't have to hire only the most famous influencers. Even those with a few thousand followers and a loyal followership of your target audience can help you create the desired impact. 
2. Real-time Engagement and Crisis Management
To manage a crisis in real time, you must respond to the customers immediately. Also, you must engage with them in a way that controls the overall narrative and positioning of your brand. 
To manage an online crisis, you must have a solid crisis management plan. Predicting a crisis and developing a comprehensive crisis communication approach is a must. 
Here is where the future of online reputation management lies. The use of predictive analysis and AI-powered tools will help you track crisis events in advance. With dedicated crisis management teams and leaders, you can chalk out an effective strategy before it turns into a disaster. 
The upcoming ORM trends may include the development of highly advanced social monitoring tools and strategies. Brands may rely on data management apps while developing strategic crisis management options. Empirical data from these apps can help them develop comprehensive ORM solutions. These solutions can help minimize damage to their business and stakeholders. 
Also Read : Powerful techniques to improve online reputation management
Consumer Empowerment and Transparency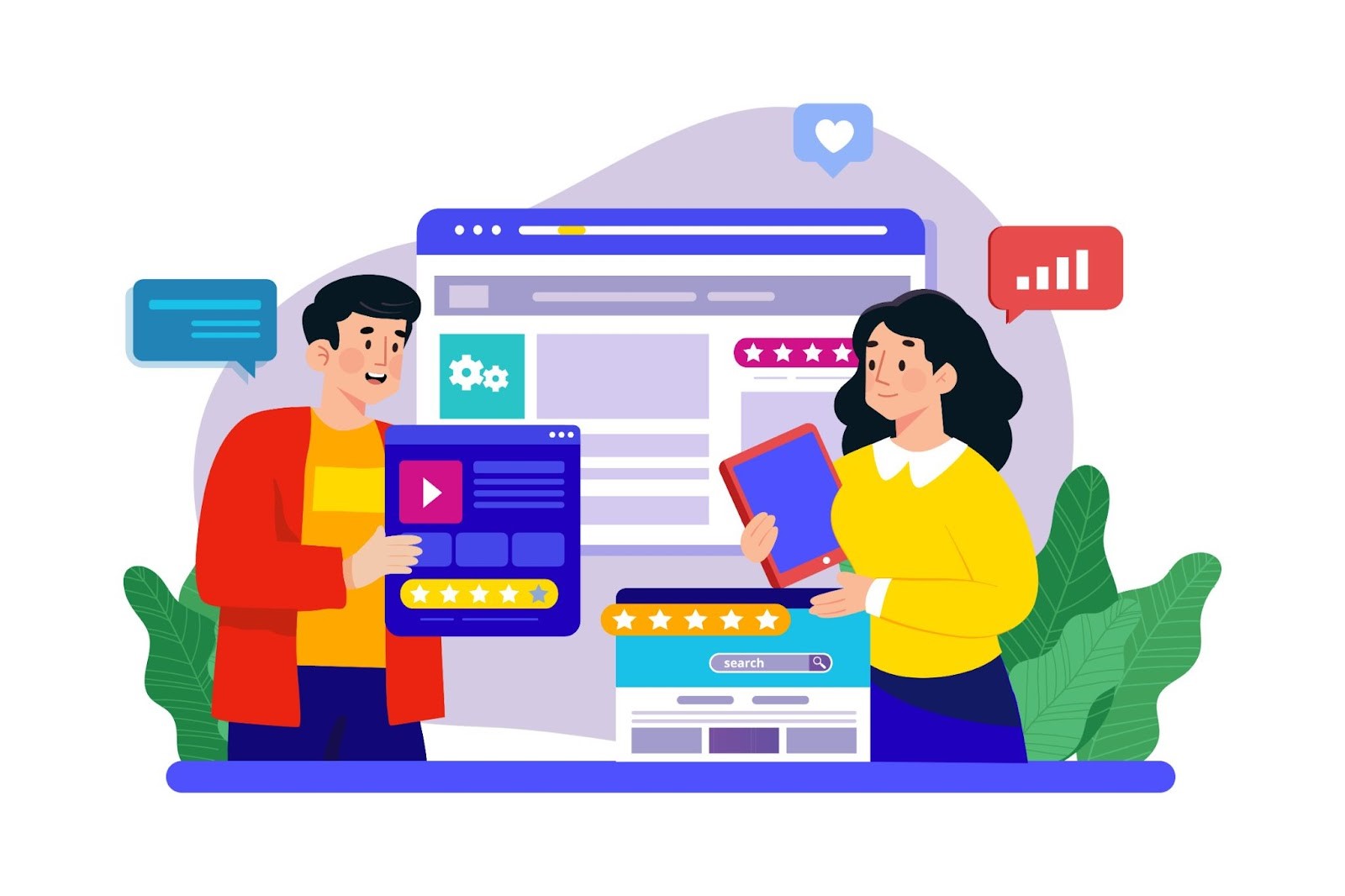 Consumer-centric strategies will rule the future trends of ORM. Consumers expect companies to be transparent while collecting and using their data.
Brands that integrate a transparent and ethical approach while handling customer views are going to be the true winners. Empowering customers is necessary to handle crises and events. Here are strategies to generate customer loyalty and trust:
1. User-Generated Content and Reviews 
Integrating user-generated content and reviews in marketing can be helpful. It improves your online reputation and reflects your brand and products/services in good light.
You can showcase the positive user reviews and content on your website pages. Gather user-generated content by tracking brand mentions, hashtags, and product reviews from popular social media review sites and communities. 
For instance, travel companies can collect positive user-generated feedback and reviews from Yatra, TripAdvisor, Tripoto, and similar sites. 
2. Ethical Considerations in Consumer Influence
While influencing the customers, be careful about their socio-political, religious, and other sentiments. For instance, many people are aware of gender equality, animal rights, and other topics. If you use any of these topics inappropriately in your ads or promotions, it may hurt their sentiments. 
Ethical consumerism also applies in the context of online reputation. It is advisable to refrain from any illegal routes or use any unethical ways to deal with crises. Adopting unethical means to resolve a crisis can create mistrust among others. Such customers may refrain from engaging with your brand in the future. 
Augmented Reality and Virtual Reality in ORM
Online reputation management is not just about dealing with untoward incidents and crises. The changing trends in reputation management involve using new and innovative ideas to improve your existing public perception.
The upcoming ORM trends may include the wider use of existing technologies like AR (Augmented Reality) and VR (Virtual Reality). To include these technologies in your existing ORM strategies, you must focus on the following things: 
1. Shaping Perceptions Through Immersive Experiences
AR is a blend of real-world elements and the digital world. You can use it to create realistic experiences.
VR focuses on creating an immersive user experience using sounds and graphics. The surreal experiences created by AR and VR can help brands orchestrate better user experiences. By creating a realistic experience, you can influence the buying decisions of your customers.
For example, automotive brands integrate AR to showcase how different customizations would look on a preferred car model in the real world. Using VR, brands can show how their interiors look and feel in a three-dimensional space. 
Also Read : How omnichannel improves customer experience
2. Virtual Reputation Management Spaces
The future trends of ORM may include brands taking steps to manage their virtual reputation. Virtual reputation matters for every business. Yet, companies that are in the service sector must focus more on it. 
Suppose that you run an Italian or Korean-themed restaurant. Your customers may like to explore your dining options and food before visiting it in person. With technologies like AR and VR, your customers can develop a first-hand impression of your services from their home/office. 
You can also publish detailed user reviews and content and represent them in a way that generates powerful first impressions. Video reviews and testimonials are already being used on a wide scale by ORM agencies. 
The future of online reputation management may include instances where customers can view the entire experience of other customers through integrated webcams and other technologies. 
Personalization and Hyper-Targeted Reputation Strategies
Personalization is the process of customizing offers, messages, and experiences based on an individual's interests, hobbies, and preferences. Hyper-targeting takes this a step ahead by leveraging analytics and customer segmentation to create relevant content for specific customers. 
Personalization and hyper-targeted reputation strategies increase engagement, offer better insights, and improve your conversion rates. Here are some ways to execute these strategies:
1. Tailoring Online Reputation for Specific Audiences
Tailoring online reputation according to the specific interests and preferences of audiences is not a one-step process. It requires you to track whether your current branding strategies are working as per your KPIs (Key Performance Indicators). Determine strategies that work the most for you and adapt them as per the evolving customer needs and market trends. 
Creating personalized content for every customer segment is also a part of this process. The content you create must resonate with your audience. So, segmenting the customers according to their shopping behavior, geography, demographics, etc. is a must.
For instance, if your audience comprises mostly young professionals, your content can revolve around career tips and insights. 
2. Micro-Influencer Partnerships for Niche Engagement
Micro-influencers are social media influencers with a limited reach and audience. They have a loyal following of 1000 to 100k followers. Though their follower count is small, they have a significant hold over their audiences.
Micro-influencers can help you target specific audience groups. Working with them is easy as they do not set complex rules for collaborations and assignments. Also, their fees are much more affordable as compared to the macro-influencers.
As they have a niche following, their audience trusts them deeply. This can result in higher CTA (Call To Action) rates and effective utilization of resources. 
Identify the micro-influencers who create content for niche audiences. Collaborating with such influencers will help you create content for specific audience segments. 
The Integration of Blockchain Technology in ORM
You cannot neglect blockchain technology while discussing the changing trends in reputation management. It is a database system that decentralizes data and protects it from unauthorized access. By integrating blockchain in ORM, you can generate a sense of trust among your audiences. 
Let me explain this through the below pointers:
1. Secure Identity Verification and Reputation Tracking
The data in the blockchain is cryptographically connected and scattered over multiple networks and computers. Due to this, it is impossible to tamper with the identity that has been created using this technology. It helps you create digital identity via decentralized networks which protects the privacy and data of the users. 
Creating digital identities using blockchain will make it easier for you to detect sources of negative news and publicity. So, reputation tracking can be much easier if you integrate blockchain technology in ORM. 
IBM Food Trust is a food ecosystem of growers, wholesalers, retailers, and other stakeholders. It uses blockchain to help consumers track the food items across the supply chain from producers to end users. It helps them to verify the food sources, which ultimately generates trust in the brand. 
2. Countering Misinformation and Digital Fraud
Countering misinformation and digital discrepancies can be much easier with blockchain technology. The use of cryptographic measures in blockchain helps you to confirm the authenticity of content. As the system is decentralized, you can cross-check the details with several parties to detect whether it is fake or not. 
Blockchain is a distributed ledger that cannot be intercepted. So, it can reduce digital fraud and ensure the complete security of your systems. 
The Future Landscape: An Integrated and Dynamic ORM Approach
While watching out for the future trends of ORM, start preparing your strategies from today. Building an integrated and dynamic online reputation management system is essential to remain competitive in the future landscape. 
Modern technologies like AI and social listening are already being used to track customer conversations. With the proactive approach, you can prevent a crisis and minimize the damage to your online reputation. It also provides you with a better understanding of the customers, evolving market trends, and competitors. 
In the future, the online reputation management market trends may include the development of highly advanced online reputation management solutions. These solutions will not only detect negative news and sentiments but also create a proper plan to resolve them. 
Brands will create secure digital identities for each customer. With machine learning and blockchain, the users will have complete control over their data. Dedicated security measures and a customer-centric approach shall determine ORM's future. 
Conclusion
By now, you should have an idea of what the future of online reputation management holds. Brands that understand their customers and use advanced technologies for communication will survive in the market. This calls for a dedicated customer experience management suite like Konnect Insights. 
With Konnect Insights, you can shape customer experiences as it offers several data analytical tools to understand customer insights. This omnichannel experience management suite allows you to integrate all the communication channels.
Management of customer data is easier as it allows the integration of over 3,000 apps. Powered with crisis management, social listening, social publishing, and other capabilities, it has everything your ORM strategies need. Connect with them today to understand their solutions and offerings!